Lebanese Mosaics in Belgrade
Lebanese Mosaics in Belgrade!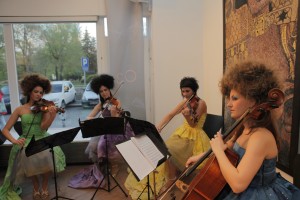 12th April 2012
The Embassy of Lebanon in Belgrade, together with Phoenician Arts, invited 500 guests to the opening of the exhibition "Through Time", featuring works of artists from the Phoenician Arts company on the 12th of April 2012 in Ozone gallery in Belgrade.
Guests included members of parliament, Ambassadors accredited to Serbia, dignitaries representing the Serbian political, cultural, intellectual and academic fields, as well as members of the Lebanese Community.
On the program of the evening were speeches delivered by the Chargé d'Affaires a.i Mr. Kabalan Frangieh and by Mr. Shady Tawil, representative of Phoenician Arts. The Lebanese National Anthem was played by Alektik, a music band, who played also oriental and occidental music. A cocktail was offered.