Food and Wine tasting in Byblos restaurant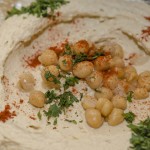 The Chargé d'Affaires a.i. of the Embassy of Lebanon in Belgrade Mr. Kabalan Frangieh and the owner of the "Byblos" restaurant Ms. Jelena Kovacevic organized a Lebanese Food and Wine Tasting Evening on Monday, May 7th, 2012. The famous Lebanese chef Joe Barsa and the commercial director of Château Kefraya  Mr. Emile Majdalani came especially from Lebanon for this occasion to present various Lebanese dishes and wines.
Guests included Princess Jelisaveta Karadjordjevic, Director of the European Integration Office Milica Delevic and renowned journalists, the likes of Miroslav Lazanski and Bosko Jaksic, as well as numerous celebrities who came to enjoy the unique experience of Lebanese wine and food: singers Aleksandra Radovic and Leontina, television presenters Marija Kilibarda and Irina Radovic, and stylist Asok Murti.
Participants in this event were also Arab, Latin and North American, and European ambassadors and diplomats, officials of the Ministry of Foreign Affairs, as well as prominent businessmen and members of the Lebanese community.
Lebanon has a lasting tradition of wine production dating back to 5,000 years. It was started with the Phoenicians, the ancient inhabitants of this Middle Eastern country who tended to the vineyards, produced wine and traded with major cities long before the Greeks and Romans.
It was here, at the wedding in the village of Cana, in Galilee, where Jesus Christ worked his first miracle and turned water into wine.
And, in the last couple of decades, the production of wine is enjoying a renaissance in Lebanon. In 2011, approximately six million bottles have been produced from 2000ha under vineyards, mainly in the Bekaa valley.