Meeting with Minister of Youth and Sports
Minister of Youth and Sports Vanja Udovičić met today with the Ambassador of the  Republic of Lebanon, His Excellency Dr. Toufic Jaber who congratulated Minister Udovičić on the sports results which Serbia has achieved during the Olympics 2016 in Rio. Also the cooperation in the field of youth and sports were discussed during the meeting.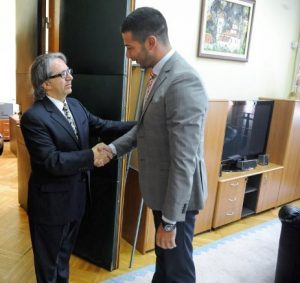 Minister Udovičić and His Excellency Dr. Jaber, also discussed the promotion of cooperation between the two countries and the pending signing of the Memorandum of Understanding and Cooperation in the sector of youth and sports between the Republic of Serbia and the Republic of Lebanon.