Meeting with Minister of Agriculture
Republic of Serbia
Ministry of Agriculture and Environmental Protection – Statements
Lebanon is interested in importing beef from Serbia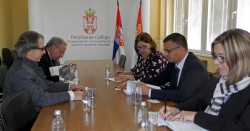 The Minister of Agriculture and Environmental Protection Branislav Nedimović was today, on 21 September 2016, officially visited by H.E. Toufic Jaber, the Ambassador of the Republic of Lebanon in the Republic of Serbia.
During the meeting they reviewed the current state of cooperation in the sector of agriculture, bilateral trade in agricultural food products and potentials of both countries in the agribusiness.
In order to promote cooperation and increase the heretofore modest trade rate, the Lebanese side expressed interest in importing beef and meat products, as well as live stock.
Further, the imminent signing of the Memorandum of Cooperation in the sector of agriculture between relevant Ministries of Agriculture has been agreed upon, which will provide conditions for increasing the volume of trade, expand the range of goods in the trade regime and allow for exchange of experiences and experts.
http://www.mpzzs.gov.rs/liban-zainteresovan-za-uvoz-juneceg-mesa-iz-srbije/